When we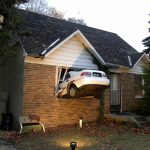 are on the road as drivers or walk alongside the road as pedestrians, we are aware of the potential danger posed by the vehicles in our surroundings. When we enter a building, those thought processes cease as we come to expect a feeling of safety from being inside a structure. The thought of a car crashing into your home, your workplace or a commercial storefront you are visiting is just unthinkable, and if you are a homeowner with a family, it's a nightmare. We wish we could say that Vehicle-Into-Building Accidents are the fiction of Hollywood action movies, but they are – unfortunately – real collisions and are types of cases that we handle frequently at our law office.
The news headlines in South Florida this past week seemed to be reporting car crashes into buildings more frequently than we usually hear about it. On Friday morning, a car crashed into a Post Office in Plantation, and on Tuesday and Sunday cars crashed into residences in Miami-Dade and Broward Counties.
Although the incidents seem the same, there are varying causes of these types of collisions. In some instances, the driver is under the influence or is not being attentive and the crash is due to his or her negligence. In other cases, there are product malfunctions with the car or in the urban planning that places a residence near a high-speed ramp for example. For homes and businesses alongside the road, some vehicle-into-building crashes are the result of an initial vehicle-to-vehicle collision that sends one or more cars spinning off into the nearby building.
Depending on the details of your case, you may be entitled to recovering monies for your medical bills and suffering. Your recovery may be impacted by available insurance, and so you should contact a qualified attorney following your accident.
Time is usually of the essence, as there may be time limitations applicable to your case, such as when you must begin treatment in order to qualify for PIP benefits. Often times, there are video cameras which may have captured the accident itself, and obtaining the video may be critical to your case; these video camera systems are usually on a loop, which deletes and replaces the video files.
Here are a few examples of how often cars crash into buildings just in the South Florida area:
http://www.nbcmiami.com/news/local/No-Injuries-Reported-as-Car-Crashes-Into-Post-Office-in-Plantation-390691131.html
http://www.nbcmiami.com/news/local/6-Hurt-After-Crash-Sends-Car-Into-Fort-Lauderdale-House-390387641.html
http://www.nbcmiami.com/on-air/as-seen-on/Woman-Nearly-Killed-After-Car-Crashes-Into-NW-Miami-Dade-Home_Miami-390377801.html
http://www.nbcmiami.com/news/local/Driver-Killed-After-Car-Crashes-Into-Sunrise-Home-390133042.html
http://www.theeagle.com/news/local/texas-a-m-transportation-institute-putting-protective-barriers-to-the/article_24f82f12-8c09-50e0-aa03-54b65308049d.html
http://www.injurytriallawyer.com/practice_areas/storefront-crash-vehicle-into-building-lawsuit-attorney.cfm