We welcome our new clients in Puerto Rico as we are now open for business at 1519 Juan Ponce de Leon Ave. #510, San Juan PR 00909-1715 only 12 minutes from the Airport. I'll explain why we opened to help those working there.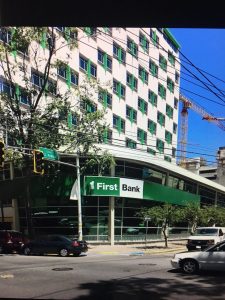 In 2004, a very bad hurricane hit Florida. We had windows blown out of our office and we were without power for nine days at our house. An electrical pole had fallen across our street so no service vehicles could get to us. We would be nine days without power. During that time we got to know all the neighbors as we shared food and grilled outside. One neighbor siphoned gas from a boat to run the generators for homes on the street. It was a camping out experience where you learned to treasure a hot shower at a friend's, were amazed by all the stars in the sky at night visible without electricity, and where you worked diligently to board up broken glass. You danced for joy at seeing a power truck on your street. We learned to share, be grateful, and have patience.
In 2017, my single largest donation was to the Red Cross after seeing the devastation caused by Hurricane Maria in Puerto Rico. I chose that charitable organization after my cousin Amy described her experience with the Red Cross. You see Cousin Amy was on the United Airlines crash in Sioux City where 1/3 of the people perished. The plane had broken into three parts. She ended up in a section that came to rest upside down in a corn field. "When we walked away from the crash with only the clothes on our back, having the Red Cross there with warm clothes, and blankets is something you'll never forget."
Donating was proper last year as I had no ability to fly to Puerto Rico to help. Now seeing the rebuilding going on, I believe this is the time to help with Attorneys Jo Ann Hoffman's skill set. We have been representing injured people many hurt in their jobs for over 35 years. Our strength and knowledge can aid those injured during the restoration process. The United States through its contractors have partially rebuilt Puerto Rico. The May 10, 2018 Daily Business Review remarks that only 69% of three sub transmission lines have been restored in Puerto Rico. According to Walter Higgins, CEO of Puerto Rico Electric Power Authority restoring power to more than 22,000 customers who remain in the dark has become increasingly difficult because of where those customers are located.  The US Army Corps of Engineers which has been overseeing federal power restoration efforts is leaving May 18. The agency is in the process of contracting three new companies to replace power crews. This work is fraught with danger and difficulties. When injuries occur our firm will be there to help. Remember the work in Puerto Rico will be done by employees working under contracts with American companies and we will litigate their benefits under the DBA Act.
I am proud to announce we are now open for business in Puerto Rico.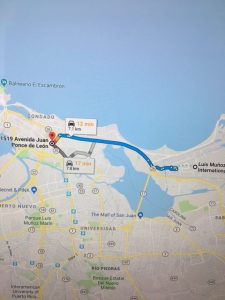 Our San Juan office address is:                                                                                                                                                         1519 Juan Ponce de Leon Ave. #510, San Juan, Puerto Rico, 00909.  We are located in the Santurce subdivision of San Juan in the First Bank Building.
All Consultations are Free! It is our privilege to help those injured in the rebuilding task. It is a significant task as not all power is yet restored. Most parts of the island have rolling black outs. Hospitals, hotels, gas stations still need repair. The media spotlight may be gone, but we are here to help.
Please reach out to us for any injury you or a friend suffered in Puerto Rico. We are only a phone call or text away. And we are here to help. Call 1-800-273-5297 or text 954-772-2644 or even email us at attorneys@joannhoffman.com
Know that we will care for all injured persons just as we have cared for our past clients. We take pride in their recoveries both financial and emotional over the past 35 years. Our track record on past and current DBA settlements for injured workers confirms we go wherever the workers are injured.