Palm Beach Gardens Teenager Killed in DUI Crash -- What to Do When You Are Riding in a Car and the Driver Causes the Accident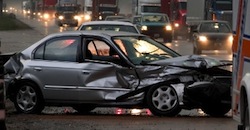 When you are a passenger in a car accident, there isn't always another car to blame for the accident. Sometimes it's a one car accident, and sometimes the fault of the accident lies solely with the driver of your car. So what happens when you get hurt when riding with a friend or family member and the accident is their fault? Can you make a claim against their insurance company? Say your family member caused the car accident. If you live with the family member who was driving, the "household exclusion" prevents you from filing a claim for your injuries. So generally, you can't make a claim against other family members with whom you live when they injure you in a car accident. If the driver is not a family member, then you can file a claim.
The unfortunate accident that happened September 29, 2011 in Palm Beach Gardens, Florida is one example of an accident where the fault lies with the victim's driver. According to the Sun Sentinel, 20 year old Sabrina Gavagni Fiorentino killed her best friend, 19 year old Bryanna Sanville, when she pulled into the path of another car who struck them. Fiorentino was found to have an excessive amount of alcohol, as well as marijuana, in her blood. She was charged with DUI manslaughter and released under supervision last Thursday, March 29, 2012. This is a tragedy. No amount of money can ever make things right when this happens.
We are writing about this accident to explain the claims process. Bryanna Sanville's family cannot file a claim against the other driver that hit Fiorentino's car if Fiorentino is 100% at fault for the accident. Her family can file a claim against Fiorentino and the owner of the car. Also, an uninsured motorist claim can be made with their own car insurance company. The Sanvilles can collect money under their uninsured motorist policy as long as their daughter lived in their household. Another example of this would be a student who is away at college. The student can still be considered a resident of their parent's home even though they don't physically live there all the time.
With most people not knowing about uninsured motorist coverage or how it works, it is important to have a knowledgeable lawyer to deal with the insurance companies for you, especially in a complicated accident case. At Attorneys Jo Ann Hoffman and Associates, P.A., we handle all the insurance claims for you and make sure that you are getting the money that you deserve for your injuries or the injuries of your loved ones. Contact our office for a free consultation, as we look forward to helping you and guiding you through this difficult time.