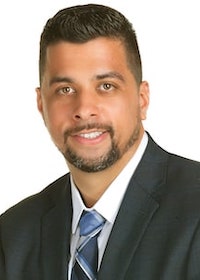 Ronald Padron, Esq.
Ronald Padron is an attorney representing the injured in Personal Injury and Defense Base Act cases. He is fluent in speaking and writing Spanish and an aggressive advocate for our Spanish-speaking clients.
Mr. Padron earned his B.A. in Criminal Justice from Florida International University and his law degree from Nova Southeastern University, with a Concentration in Health Law. While pursuing his legal studies at Nova he was awarded the prestigious honor of Dean's Certificate of Professionalism and received the Pro Bono Honors Award for his efforts providing legal service to the community through Legal Aid Service of Broward County.
Prior to becoming an attorney, Mr. Padron worked at a personal injury law firm, where he gained experience in helping those injured in car accidents, slip and falls, and the negligence of others. After admission to the Florida Bar, Mr. Padron joined Attorneys Jo Ann Hoffman & Associates where he aggressively represents the injured and helps them obtain the benefits they deserve.
Mr. Padron was raised in Miami, Florida. He has served as the Vice-President of the Cuban American Bar Association.
Education
B.A., Florida International University
J.D., Nova Southeastern University
Professional & Bar Association Memberships
Florida Bar
Cuban American Bar Association