This discussion will center on Federal Liens which you need to be aware of and handle with common sense.  So put the Federal lienholder on notice of a third party claim and settlement as you can pay them back a portion of money they paid for the related medical treatment and Federal compensation benefits when the case settles.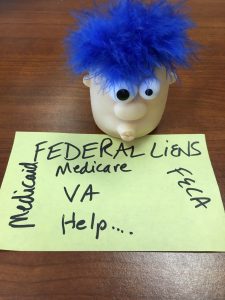 Federal liens include:
The US Dept of Labor under the Division of Federal Employees' Compensation Act (FECA) §8131 provides for a lien if the Federal employee received Federal compensation for lost wages that are an element of the damages in a personal injury case.  The Statute states:
If an injury or death for which compensation is payable under this subchapter is caused under circumstances creating a legal liability in a person other than the United States to pay damages, and a beneficiary entitled to compensation from the United States for that injury or death receives money or other property in satisfaction of that liability as the result of suit or settlement by him or in his behalf, the beneficiary, after deducting therefrom the costs of suit and a reasonable attorney's fee, shall refund to the United States the amount of compensation paid by the United States and credit any surplus on future payments of compensation payable to him for the same injury. No court, insurer, attorney, or other person shall pay or distribute to the beneficiary or his designee the proceeds of such suit or settlement without first satisfying or assuring satisfaction of the interest of the United States.
With respect to Medicare and Medicare Advantage plans they both have the same lien rights under 42 U.S.C. §1395y(b)(2) with respect to personal injury proceeds. So put them on notice and ask for 1/3 reduction for fees and more if the settlement was limited by the cap of the liability proceeds.
Medicaid Liens have the same reimbursement rights per 42 U.S.C. §1396k(a)(1)(A) so put them on notice and pay them back once the case settles very similar to the way you pay back Medicare.  Hold monies in trust to pay their lien if you want to make a partial disbursement of settlement proceeds.  Their lien only applies to payments made from the accident up to the time of settlement limited to the settlement funds for past medical expenses, rather than pain and suffering and attorneys fees.  Ark. Dep't of Human Services. v. Ahlborn, 547 U.S. 268 (2006)
Liens apply when the VA has provided medical care and treatment for injuries and you will make a claim against a third party for those medical treatments.  38 U.S.C. §1729.  In our next blog post, this law firm will provide information on how to notify and negotiate the liens.