Defense Base Act Claims
WERE YOU HURT WHILE DEPLOYED AS A CIVILIAN CONTRACTOR?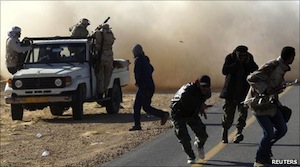 The Defense Base Act is a Federal law that dates back to World War II. It currently provides significant and valuable protection to civilian contractors working for an American contractor overseas or in occupied territories. This is a form of worker's compensation, so there does not have to be a liability component to the case. In other words, you don't have to prove that somebody else was at fault for the accident.
Our clients who qualify for Defense Base Act coverage will receive any and all necessary medical care and treatment, lost wages, incidental expenses, and may qualify for a settlement at the conclusion of the case. The injury can be of any type: injuries sustained during training exercises while deployed, injuries during training for overseas deployment, a motor vehicle accident while being transported, a slip and fall in a shower while deployed, a motor vehicle accident while simply delivering supplies, falling down a flight of steps on the way to render translation services, or, unfortunately, being injured in a military action. There are also death benefits should your loved one be killed.
We handle DBA cases all over the world from our base of operations in Florida. Florida is home to significant military bases and significant contractors doing business on all seven continents. Further, it is considered the "gateway to South America," but also it is a hub to the Middle East and other "hot spots" throughout our planet. We can secure translators should you need them for any consultation. You do not need to be a United States citizen to qualify under the Defense Base Act (DBA). It is vitally important that you give your employer written notice of your injury and vitally important that you secure legal counsel and representation promptly. Unfortunately, many employers do not fully advise you of your rights, and may leave you "in the dark" as to your right to medical care, lost wages, and a potential settlement. Our job is to help make sure that you get everything to which you are entitled!
Remember, we take all of these cases on a contingency fee. That means that we NEVER charge you any fees or costs unless we recover monies from the defendants or their insurance companies. Consultations are always free. DON'T DELAY YOUR CASE! CALL US IMMEDIATELY! We look forward to helping you. 1-800-273-LAWS.