We Help Injured Contractors who worked in Afghanistan
We know this Afghanistan war has been drawn out since the USA first deployed in the fall of 2001. That is 20 years ago. USA Military and contractors are still hard at work trying to evacuate our contract workers and Americans. If you or a loved one were working for a defense contractor in Afghanistan and were injured,  we may be able to obtain federal workers compensation benefits under the Defense Base Act. International workers injured while working for American companies, have rights.
Our law firm is committed to filing claims for injured workers in Afghanistan. We recognize the extreme danger to individuals left behind in the country given the Taliban brutal practices.  If an attorney files a claim for an Afghan person the attorney should have the Judge redact the name of the claimant and use only initials as the person's family could face retribution. Also the Judge should seal the papers leading to the change of identification.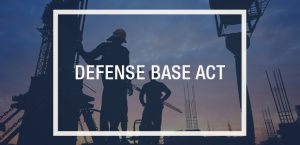 Under the Defense Base Act, citizenship is irrelevant. If you were working for a U.S. defense contractor, you may be entitled to benefits under the Defense Base Act. If you or a loved one was injured or killed in this attack, it is important you contact an attorney who specializes in Defense Base Act cases.
It is critical that the people who helped our military can be evacuated and resettled to safe locations once they are flown from the Kabul International Airport. Those arriving at new locations in the United States will need help with housing, food, education, medical treatment, and eventually jobs.  People helping people are what we are about. We work toward getting medical benefits and lost wages for relocated contract workers. Coming to a new country with only the clothes on your back is not going to help a person thrive. We can provide services that can help stabilize your future and the future of your family.