During the US wars in Iraq and Afghanistan, there were thousands of deaths and serious injuries both to US Military and to Defense Base private Military contractors.  It is documented that in the Iraq War, the private Military contractors were regarded as no different from the US Military to the Taliban or Enemy which means they must die alongside the US Military personnel.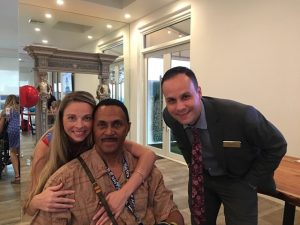 This is the story of our Defense Base Act Hero.  A few months ago, our law firm honored people we had the privilege to represent by taking them on a night cruise on the Summerwind Yacht, a smaller, older yacht which holds 55 people max. Because of the boat's age, it is not a handicap accessible yacht.
David, our client, wanted to go. There was no way his wheelchair would fit up the small steps so ….Carlos and Javier (our Paralegal and our Attorney) carried David sideways onto the boat and then carried his wheelchair on board the yacht. Up front on the bow of the yacht, he sat on a cushion with his dog with his wheelchair by his side.  I checked on the other guests and half way through the cruise, I went up front to check on David. Christie, our bookkeeper was by his side and he was telling her the story of his life and his travels.
You could see in the dim moonlight the original young David before this bomb blast and, as he spoke his eyes focused on the beauty of the water and the homes. He spoke of his years in the military before he signed up to work for Lockheed Martin. How once he was stationed in Afghanistan, the Taliban told his group that they would kill them, how most men quit and returned home except for 10 men in his troop who stayed. Those ten men were killed and David survived. David was sent to Walter Reed Hospital for medical treatment.
There it was explained to  him that most people who suffer these types of injuries are dead within 5 years.  Either drugs or depression would take its toll.  The only choice should he choose to "Master his Disaster" was to get beyond the severity of what happened, focus on going forward, and ACCEPT this was his fate.  Otherwise he would perish.
If he chose to accept what happened as his fate, at Walter Reed Hospital, they would teach him to become self sufficient and need no one. He was in classes with people with no legs and no arms. One person had lost an eye.  David became thankful he had his arms to brush his teeth and wash his hair. He said they told him he could forget his friends as one by one they would all leave him. People are not good with being around people with these disabling injuries.  They said he would not have a social life, no invitations to dinners or parties… that was over. Those predictions all became true.
So when he received our invitation to our event, he came. Driving 5 hours was not a deterrent. That night when the yacht docked, David was the first one off carried by Carlos and Javier.  Truly a night to remember and a wonderful talented group of people at our firm making a difference in the world one person at a time.
This is what we do. We honor those who served our county.  Our firm files claims to obtain medical treatment and lost wages for injured workers.  Many have injuries from their war zone work with
SOC
,
Triple Canopy
now Constellis,
Blackwater
now Academi, and others. Think about it, with disabling injuries, how can you safely travel, if you don't have an accessible van, a ramp to your house, and an accessible kitchen and bathroom?  Of course an
Employee Claim for Compensation
must be filed. It is not easy. We file claims for US civilians, and we are proud of our work which will continue.
Can you imagine if you lived in Africa?  I have to believe it would be even harder considering many villages have no internet.  Clients have to walk twelve hours to get medical treatment. They have to walk back and wait days to get their medical records so that we can file a claim.
Helping the Injured is our Passion and
we
are coming to help those in Africa. Happy Easter to everyone.