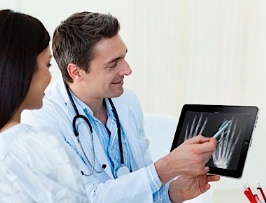 In worker's compensation cases, the Employer/ Carrier has the right to select the injured worker's physician. Are there any circumstances in which an injured worker can pick his or her own physician?  The answer to this question is "Yes."
Under Section 440.13(2)(f), Florida Statutes (2011), the Claimant is allowed a one-time change of physician for the life of the case.  The request for the one-time change made by an injured worker must be approved and the Claimant must be notified within five (5) days.
In the case of  Bustamante v. Amber Construction Co. and American Interstate Ins. Co. (Fla. 1st DCA 2013), the injured worker's attorney emailed the request for a one-time change to the adjuster on September 25, 2012.  The adjuster responded the following day, stating that he would contact another provider to see if one of their orthopedics would take over treatment.  Thereafter, the adjuster faxed a letter to the new orthopedic advising them that they were authorized to "evaluate and treat claimant."
Neither the injured worker nor his attorney were advised that this new physician was authorized to treat the injured worker.  The injured worker's attorney, assuming that no appointment had been made within the five (5) day statutory period, made an appointment with a physician of his choosing.
The First District Court of Appeal held that although notice was given to the new physician that he was authorized to treat the injured worker, no notice was given to the injured worker or his attorney and this failed to satisfy the five (5) day rule in Section 440.13(2)(f), Florida Statutes (2011).  The Court therefore allowed the injured worker to select his own treating physician.
What this means is that an injured worker can select a physician of his or her choice.  This allows greater freedom in treatment as doctors hand-picked by the workers' compensation insurance companies are known to be extremely conservative in their care and treatment of an injured worker.
It is important for an injured worker to understand the intricacies of Florida's workers' compensation laws and regulations.  Attorneys Jo Ann Hoffman & Vance B. Moore, P.A. handles these types of issues and we work hard to make sure clients get the best possible medical care and as much financial compensation as the laws allow.  Please contact us with any questions, comments, or concerns that you may have as to whether you can choose your own worker's compensation physician.