Under  the Florida workers' compensation statute, F.S.A. 440.205, a terminated employee can sue where an employer has fired the employee for exercising his valid claim for workers' compensation benefits.  Fla. Stat. 440.205 states:
440.205 Coercion of Employees.  No employer shall discharge, threaten to discharge, intimidate, or coerce any employee by reason of such employee's valid claim for compensation or attempt to claim compensation under the Worker's Compensation Law.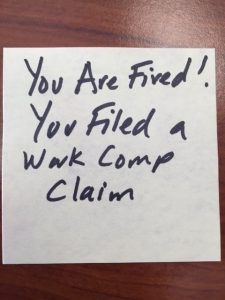 A cause of action can be filed in the Florida Circuit Court based on the case of Smith v. Piezo Technology, 427 So.2d 182 (Fla. 1983).  The terminated employee must show that he made a workers' compensation claim that was valid and that he was terminated due to making that claim.  This can generally be found by a termination  shortly after filing the claim.
Once the Plaintiff establishes a prima facie workers' compensation retaliation case, then the burden shifts to the employer to establish that the termination from employment was for a valid reason.  Andrews v. Direct Mail Exp., Inc., 1 So.3d 1192 (Fla. 5th DCA 2009).  Once the employer establishes a valid reason, the burden then shifts back to the Plaintiff to prove by a preponderance of the evidence that a legitimate reason was merely a pretext for the prohibited retaliatory conduct. Andrews, Id. at 1192-1194, and citing Sierminski v. Transouth Fin. Corp., 216 F.3d 945, 950 (11th Cir. 2000). Not only can the Plaintiff receive emotional distress damages, but the employee can be liable for punitive damages under Rease v. Anheuser-Busch, Inc., 644 So.2d 1383 (Fla. 1st DCA 1994).  This firm can pursue a wrongful discharge case for you, brought in a completely different venue, separate from the workers' compensation claim.