The Florida Supreme Court on June 9, 2016 in the case of Westphal v. City of St. Petersburg, Case No. SC13-1976 declared Florida Statute 440.15(2)(a) unconstitutional.  That provision sought to limit disability (lost wage) benefits to an injured worker to only 104 weeks, even though the worker was on a no work status or disabled after the 104 weeks.
The Florida Supreme Court concluded that provision was unconstitutional based on a denial of right of access to the Co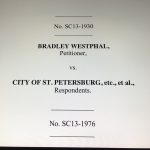 urts.  The Florida Supreme Court said that the injured worker could have 5 years or 525 weeks to receive benefits for lost wages based on an earlier constitutional statute. Those weeks do not have to be sequential.
What this means for the injured worker, is that, the Florida Supreme is finding provisions of the workers compensation law so onerous that those provisions violate the constitutional rights of the injured worker. When this happens,  the prior constitutional provision of the workers compensation law becomes applicable.
As such, it is anticipated that the legislature will be making changes to the workers compensation statute.  The Florida Workers Compensation Statute is described in this decision as so oppressive "that the workers suffer in silence rather than fight a system that is so obviously and drastically skewed against them." Id. at 39.  Our firm is filing more Petitions for Benefits based on doctor ordered treatment to obtain needed relief for the injured worker.