I just returned from London, England where I had my client sign her release.  There was a notary requirement on the original release, but in London, a notary charges £100 pounds, which is equivalent today to $130.00.
To save my client that money, we spoke with the supervisor at the insurance company and received approval for her signature to be witnessed by two people in London, which was done instead of having a notary.  This saved the client $130.00 and we did not charge the client for our travel expenses, as we frequently do business in London.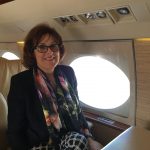 We receive calls from all over the United States from people injured while providing services to our troops stationed throughout the world.  Their injuries are covered under the Defense Base Act, which is a Federal Statute, providing workers compensation benefits.
Recently, one of our paralegals traveled to Houston, Texas to meet, sign up, and provide a full explanation of an injured worker's rights under the Defense Base Act.  The week prior this same paralegal traveled to Jacksonville, Florida to provide the same services to another injured worker.  These are just a few examples of the customer service that we provide.  It is very important to us that our clients are happy, satisfied and fully informed.
I have been practicing law in Florida since Labor Day 1988 and over the years, this firm has obtained permanent total disability benefits for injured workers. We presently have clients who have been receiving permanent total disability benefits for over 30 years and we often encourage them to continue on those benefits rather than take a lump sum, where it is in their best interest and the checks will continue for their lifetime. We do this because, customer service is our number one priority.