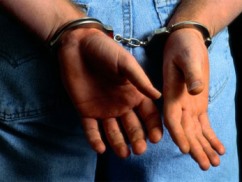 On November 5th, 2013, Collier County Police arrested Joel Trujillo for not having workers' compensation insurance available to the employees of his company, K.C. Tile and Marble.  Failure to provide workers' compensation insurance is a third degree felony under Chapter 440 of the Florida Statutes.
Back in June, two employees of K.C. Tile and Marble were working at a construction site when they were struck by lightning.  One employee survived; the other did not.
Because of the employer's failure to secure workers' compensation coverage for its employees, the family of the worker who died was not able to collect death benefits which would have potentially been available to them under workers' compensation.  These benefits include funeral expenses up to $7,500.00, compensation to dependents, and benefits to the surviving spouse, up to a maximum of $150,000.00. The surviving employee would have been entitled to medical care and lost wage benefits. Although the details of the employee's injury have not been released, lightning strikes have the potential to cause severe burns, cardiac arrest, and neurological impairment. 
When investigators from the Florida Division of Worker's Compensation Compliance discovered that K.C. Tile and Marble did not have workers' compensation insurance coverage as required by Florida law, they issued the company a stop-work order pursuant to Florida Statutes, Section 440.107(7)(a).  K.C. Tile and Marble was found to be conducting business in violation of the stop-work order when Mr. Trujillo was taken into custody.
Section 440.09(1) of the Florida Statutes clearly states that employers in Florida are required to "pay compensation or furnish benefits … if the employee suffers an accidental compensable injury or death arising out of work performed in the course and the scope of employment."
Unfortunately, this is not an isolated incident.  On November 7, 2013 in Marco Island, police arrested three other men whose construction businesses failed to carry workers' compensation coverage.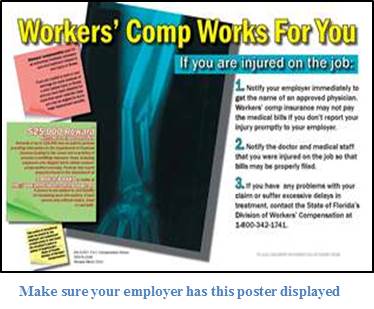 Your employer is required to inform you of your rights under the workers' compensation statute and give you the contact information for the company's insurance provider.  This information is contained in a poster that Florida employers are required to post somewhere where employees can easily view it; most often in a kitchen area or file room.  The poster shown here is meant to inform you of your rights and also give you the name and contact information for your employer's workers' comp insurance company. The poster in your office may look different if it's an older poster, but the information is the same. Take a moment to locate and read this poster to make sure you know what to do in case of an on the job injury.
Remember, if you are injured due to an accident at work, it's a good idea to contact an attorney to ensure that you get the compensation to which you are entitled under Florida law. Attorneys Jo Ann Hoffman & Vance B. Moore, P.A. have been fighting for the rights of Florida employees for over 25 years. Initial consultations are free.  If you have been injured, please contact us so we can evaluate your case and get you the best possible result.