For those workers who have been sent to war zones to work, you may discover you have injuries once you return to your home even if in a different country.  When you are having difficulty hearing from being exposed to bombing or experiencing nightmares or startle responses to loud noises, you should seek medical treatment in your own country.  Until you see a doctor we cannot make a claim for you.  Once you see the doctor we will need to see those medical records.  We can then file a Claim and I discuss that in my other blogs.
This firm represents many injured workers who have lost wages since their last employment when they were under contract to work. I want to provide access to the form you will need to complete to have your lost wages considered. The form is called an LS200 Report of Earnings. What it does is allow the injured worker to document his earnings since the time he lost his employment where his injury is ongoing as with spinal physical injuries or psychiatric injuries.  This is important because this documentation allows the insurance company to calculate the wage loss of the injured worker.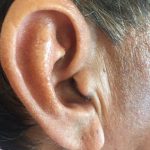 Let me explain it with an example. Say when you were working you earned $200 per week.  Your psychiatric injuries have prevented you from working for 6 months of the twelve months since you lost your employment. Your lost wage benefit is payable at  2/3 of your $200 per week earning or $133.33 per week.  If you lost 6 months of wages you are eligible for 26 weeks times $133.33 or $3,466.58 but you must complete the earnings form so the proper calculation can be made.
Let's discuss what occurs when you have a scheduled injury, such as hearing loss. Under this example, a year after you lasted worked you have your hearing tested and you have a 15% loss of hearing in one ear. Section 908 says that an audiogram is generally conclusive proof of hearing loss and benefits are payable as follows:
(13) Loss of hearing: (A) Compensation for loss of hearing in one ear, fifty-two weeks.(B) Compensation for loss of hearing in both ears, two-hundred weeks.
When your hearing loss is a percentage of total hearing loss you receive money based on that percentage. As an example if the hearing loss is 15% in one ear you receive 15% of 52 weeks or 7.8 weeks times $133.33 which is your wc benefit based on $200 per week. Under this example, the injured worker will receive 7.8 weeks times $133.33 or $1039.97 in benefits regardless of whether he is working full time or has no earnings.