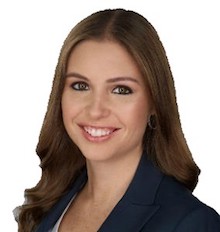 Maria S. Fischer, Esq.
Maria Fischer is dedicated to helping those who have been injured through her trial advocacy and extensive litigation experience. She is committed to seeking justice and achieving the best possible outcome for her clients.
Maria began her career as an Assistant State Attorney in the Seventeenth Judicial Circuit, in and for Broward County. She handled a wide variety of cases and worked her way up to managing a high case load of first-degree felonies and crimes that are punishable by life. Maria gained strong litigation skills during her time as a prosecutor, appearing in court daily for trials, motions, and hearings. Prior to working as a prosecutor, she worked as a Certified Legal Intern at the Office of the Public Defender in Gainesville, Florida, giving her experience defending clients and a perspective from both sides of the law. Maria amassed 30 jury trials during her career in the criminal justice system.
After leaving the State Attorney's Office, Maria worked for a well-respected boutique law firm in Fort Lauderdale, where she assisted in creating the products liability practice area for the firm and focused on medical device cases, helping individuals battle some of the largest companies in the world. She then joined one of the leading personal injury firms in Florida, where she handled an immense number of cases from start to finish. During this time, she helped recover millions of dollars for those injured due to the negligence of another party.
Maria earned her college degree from the University of Miami and her law degree from the University of Florida. During law school, she had the prestigious opportunity to work as a summer judicial clerk for Justice Barbara Pariente at the Florida Supreme Court. As a lifelong resident of South Florida, Maria has a strong passion to help her community.
Education
Juris Doctor, University of Florida Levin College of Law, Cum Laude, 2013
Bachelor of Science in Business Administration, University of Miami, Cum Laude, 2009
Jurisdictions Admitted to Practice State of Florida, 2013
U.S. District Court for the Southern District of Florida, 2017
U.S. District Court for the Middle District of Florida, 2017

Professional & Bar Association Memberships
Young Lawyers Section of the Broward County Bar Association
Member Since: 2016-Present
Treasurer 2021-2022, Secretary 2020-2021, Director 2018-2020, President-Elect, 2022-2023
Broward County Bar Association
Member Since: 2016
Young Lawyers Section President, 2023-2024
Broward County Trial Lawyers Association
Member Since: 2018
Director, 2023-2025
Legal Specialties and Certifications
Articles
Contributing Author for the Broward County Bar Association Barrister December 2021, Page 11
Contributing Author for the Broward County Bar Association Barrister January 2019, Page 21
Current Uses of DNA in Florida: The DNA Database, Competing Rights of the State and Defendant, and the Florida Innocence Commission, 50 No. 3 Crim. Law Bulletin ART 6 (Summer 2014)
Contributing Author for the Florida Bar Business Law Journal's Case Law Update 2011