In many instances, a psychological injury will occur over time as a result of working with multiple employers in a war zone.  Which employer ends up liable will usually be the Last Employer even though there was minimal psychological trauma during that employment. Let's look at how the courts have typically analyzed this issue.
Psychological claims that occur as a result of cumulative exposure to harsh and dangerous working conditions such as the hazards of working in a war zone are designated as an occupational disease.  Specifically, courts have defined an "occupational disease" as a disease caused by hazardous conditions of employment, which are peculiar to the employee's employment as opposed to other employment generally.  Hazardous activity need not be exclusive to the particular employment, but it must be sufficiently distinct from hazardous conditions associated with other types of employment.  Gencarelle v. Gen. Dynamics Corp., 892 F.2d 173, 23 BRBS 1 (CRT) (2d Cir. 1989), aff'd 22 BRBS 170 (1989).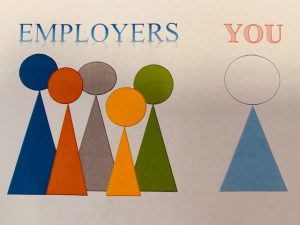 The last employer rule specifically applies in occupational disease cases.  Travelers Ins. Co. v. Cardillo, 225 F.2d 137, 145 (2d Cir. 1955), cert. denied, 350 U.S. 913 (1955).  The title "last employer rule" is sometimes given to each of the different tests for determining liability among several employers in a LHWCA matter.  See Foundation Constructors, Inc., 950 F.2d 621, 624 (9th Cir. 1991).  "Whether it is characterized as two different rules, or different applications of the same rule," courts use two tests, one for traumatic injury and one for occupational disease, when evaluating employer liability under the Act.  Id.  The Rule limits liability to "the employer during the last employment in which the claimant was exposed to injurious stimuli, prior to the date upon which the Claimant became aware of the fact he was suffering from an occupational disease arising out of his employment."  Travelers Ins. Co. v. Cardillo, 225 F.2d 137, 145 (2d Cir. 1955), cert. denied, 350 U.S. 913 (1955); see also Fulks v. Avondale Shipyards, Inc., 637 F.2d 1008, 1012 (5th Cir 1981); Newport News Shipbuilding & Dry Dock Co. v. Stilley, 243 F.3d 179, 181-82 (4th Cir. 2001).  Put another way, the last employer to employ a claimant while she is exposed to the injurious stimuli prior to the claimant's discovery of her disease is liable.