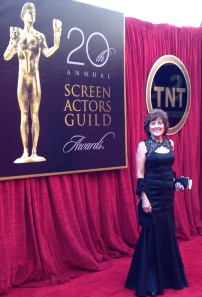 My friend, who is a doctor and an actress with a membership in the Screen Actors Guild, secured two tickets to the  Screen Actors Guild (SAG) Awards and I was invited.  This involved flying to Los Angeles, picking up our two tickets which had our names and instructions on arrival and attendance along with our limo passes to the Awards.  We had to purchase a limo as you don't want to arrive at the Awards in your Hyundai rental car.
You're instructed to arrive at the Awards which took place at the Shrine Convention Center in downtown Los Angeles by 3:30 p.m.  You have to be in your seats by 4:30 p.m. as the show begins promptly at 5:00 p.m.  There are yards of bright red carpet flowing from the street where you're dropped off into the Awards center gala.  When you are dropped off at the red carpet, the people there open your doors and you have arrived!  There are crowds of people in the area of the limousine drop-off and you know when a big star arrives because there's lots of cheering.


I, along with my friend and other people who were invited, stood along the sides of the red carpet where we would take pictures of celebrities as they passed down the red carpet.  The stars were arriving for about 45 minutes.  You knew when a big star arrived because you could hear the fans that were blocked off on the other side of the street cheering.  A big cheer went up for Oprah, who certainly has a big presence when she arrives and walks down the red carpet.  Rita Moreno arrived and, at 82, would accept her Lifetime Achievement Award.  She certainly had a dazzling outfit on and a wonderful presence as she walked down the carpet.  Morgan Freeman was there as well and received big cheers.