As we attempt to navigate through unchartered waters, the concern for most workers who return to work – whether you are a frontline worker or in the private sector and have no alternative but to work – is whether or not you will be covered under Florida Workers' Compensation Laws if you contract Coronavirus (COVID-19).  The good news is you are covered if you are a Florida frontline employee.
Are private sector workers covered for covid? It is not easy as the private worker must prove that Covid or Coronavirus which is considered an occupational disease, was contracted due to a unique risk or exposure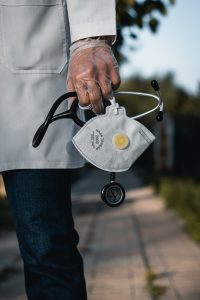 hazard at work; was contracted during employment; and that the nature of employment was the major contributing cause of the disease. Florida law 440.151.  This burden is not an easy burden to satisfy, especially for private sector worker which includes, but not limited to, grocery employees, office employees, laborers, support staff workers, restaurant employees, etc.  However, as of late, the burden for state frontline workers is no longer as stringent.
In April 2020, Florida Chief Financial Officer (CFO) and State Fire Marshal Jimmy Patronis directed the Division of Risk Management to provide workers' compensation coverage to state frontline employees.  The directive/special rules, found in the Chief Financial Officer (CFO) Directive 2020-05,  apply only to state frontline employees and not to the private sector workers.  Directive 2020-05 states that Florida is going to honor workers' compensation claims for state frontline employees.  Covered employees include state employees who work directly with the public such as police officers, healthcare workers, family protective services investigators and emergency responders.  The rules dictate that the burden is on the state to prove that the source of the Coronavirus is a source other than the employee's work.  In summation, it is more likely than not that state frontline employees who contract Covid- 19 a/k/a Coronavirus can expect to receive workers' compensation benefits without much of a fight. Continue reading →