I just returned from London, England where I had my client sign her release.  There was a notary requirement on the original release, but in London, a notary charges £100 pounds, which is equivalent today to $130.00.
To save my client that money, we spoke with the supervisor at the insurance company and received approval for her signature to be witnessed by two people in London, which was done instead of having a notary.  This saved the client $130.00 and we did not charge the client for our travel expenses, as we frequently do business in London.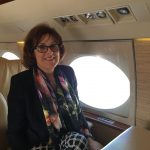 We receive calls from all over the United States from people injured while providing services to our troops stationed throughout the world.  Their injuries are covered under the Defense Base Act, which is a Federal Statute, providing workers compensation benefits.